Spread-winged Skippers: Long-tailed Skipper
Urbanus proteus
Size:

Wingspan ranges from 1.75" - 2.94"

Habitat:

Fields & gardens

Occurrence Level:

Rare wanderer

Flight Period:

August to October

Larval Host Plant:

Hog peanut, other climbing legumes
Click on any photo to enlarge
The Long-tailed Skipper has a beautiful blue-green iridescence on it body and wing bases and of course, it has a wonderfully long tail.
---
---
---
It's not uncommon for the Long-tailed Skipper to show up with part of its tail missing. This particular butterfly was missing most of it.
---
In 2012, several counties were fortunate to receive visits from these rare wanderers to the State. Sweet Pea provided an irrestible draw!
---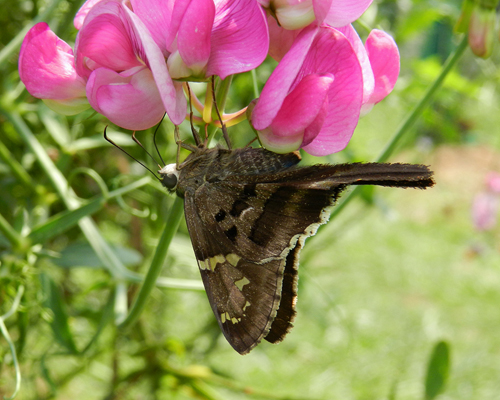 I always thought the tail would droop in this position. In turns out that the Long-Tailed Skipper has a very strong wing vein down the center.
---
---
---